The Ministry of Music at Faith Presbyterian Church provides a program of graded choirs which gives people of all ages an opportunity to grow in faith and in Christian leadership through music. It is a comprehensive program which prepares our children, youth, and adults for a lifetime of service to God and the church. We seek to create beauty and inspiration as we lead in worship. We believe that the music of the church is an offering to the glory of God and not for personal applause. The musical experience includes the teaching of the great, both old and new, hymns and anthems of the church, skills in singing, music reading, instrumental instruction, and activities of fellowship and service. We encourage anyone, both the highly skilled and the sincere beginner, to join this area of ministry. The only qualification is a true dedication and desire to be of service to God.

Peter Pursino, Director of Music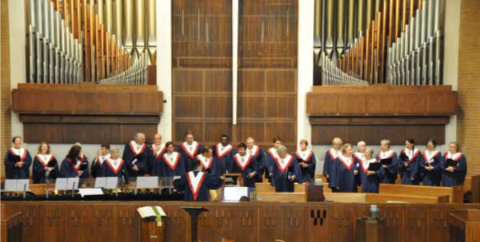 Chancel Choir - Wednesdays, 7:00 – 8:30 p.m., Music Center
Sunday mornings 10:00 a.m. Provides musical leadership in the 10:30 a.m. worship service. While our music is varying styles and difficulty the singer has ample time to learn the selections. New members are always welcome! Nursery is provided.
Faith Ringers - Wednesdays, 6:15 – 7:15 p.m.
Our adult handbell choir uses 14 people to ring four octaves. The group rings 8 to 10 times a year during worship. We encourage anyone who is interested in ringing. Nursery is provided.
Fantastichoir - Wednesdays, 6:00 p.m. (1st-5th grade)
This group follows and age appropriate music curriculum that includes singing, Orff, and Choir Chimes. They sing and play in worship occasionally throughout the school year. New members are welcome!
Cherub Choir - Wednesdays, 6:30 p.m. (Three through Five-Year-Olds)
This music time for our littlest of angels is part of Holy WOW! They perform occasionally during the church services.