In response to Jesus' commandment to love our neighbors as ourselves, Faith Presbyterian is called to stand beside the community of Sealey Elementary School. We will support the students, families, teachers and staff so that we may experience the grace of God in each other and build a stronger future together.
Although the pandemic has kept us from face-to-face support for our Sealey family, through your generosity, we have been able to provide support in some different ways:
Special seasonal treats in teachers' boxes four times during the year.
August 2020 Back to School Drive. Faith provided teachers with items on their wish lists to get them started in a completely different kind of school year (face masks, air purifiers, lots of Clorox wipes and hand sanitizer, in addition to the regular requests).
November 2020 Buckets of Love. Lowes large buckets for each teacher and staff member filled to the brim with a Target gift card and snack items personalized for each person.
April and May 2021. During standardized testing, Faith volunteers provided water, snacks and homemade sweet treats for the teachers as they completed testing each day.
June 1-4, 2021 Teacher Appreciation Week. Breakfast, lunch from Willie Jewels, ice cream and brownies dessert, and Target gift cards for each teacher and staff member.
Your help, prayers and monetary gifts are what make this worthwhile community outreach possible. If you would like to contribute money to the Faith Presbyterian Church/Sealey Partnership, please indicate that on your donation.
Faith Presbyterian Church/Sealey Outreach Coordinators:
Pastor Brad Clayton - 850/385-6151
Sealey School Contact: Allison Hankinson - 850/508-7455 and Beverly Sims - 850/510-3827
Staff Luncheons: Neal and Janet Evans - 850/445-7150 or 850/445-5294
Mentor Recruitment: Lew Shelley - 850/545-8736
Volunteer Recruitment: Beverly Sims - 850/510-3827
We are hopeful that the 2021-22 school year will allow us to return to the school in person! There are several ways you can help:
Mentor
Mentors are assigned a student or two to work with for about 45 minutes a week. They help students finish assignments, help them read AR Books, or anything else that teachers may want the student(s) to work on. Mentors must be trained by a district staff person and be fingerprinted. This is because mentors are often left alone with children.
Volunteer
Volunteers are helpful for making copies, sharpening pencils, tearing pages out of workbooks and stapling, grading papers, helping with book fairs, field day, and Teacher Appreciation. Volunteers often work in the classroom with the teacher or wherever the principal determines they are needed. Volunteers are not allowed to be alone with students. They must complete the on-line volunteer form which may be found on the Leon County School website.
Keep these opportunities in mind as you make your plans!
---
Thank you to all who helped with or donated items for the Sealey Back-to-School Breakfast on August 1!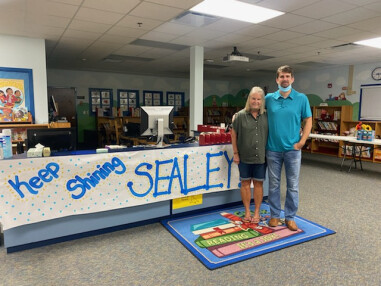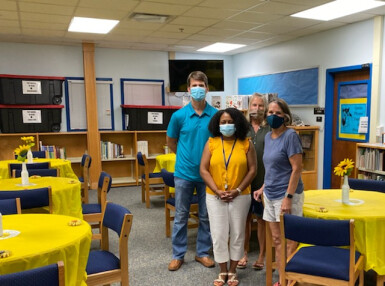 ---
April 2022
Our Sealey teacher friends need a little something special after spending their mornings giving standardized tests to their students! We would like to help them breeze through these days with a few snacks, both salty and sweet! If you would like to contribute items in Aril and/or May, please use the following button link to sign up.
SEALEY SIGNUP