---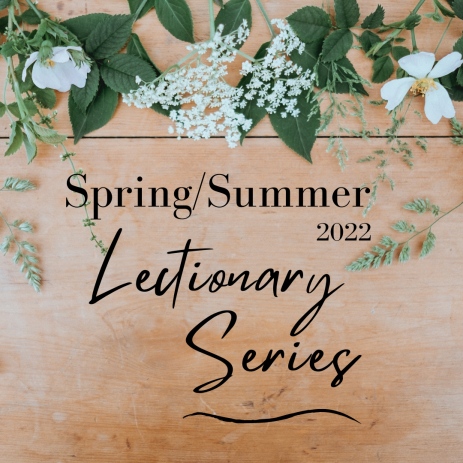 April 24: New Heaven & New Earth, Revelation 21:1-5
The Kingdom of God includes a new heaven and a new earth. How are we called to make our earth in the image of the kingdom of God?
May 1: Tend My Sheep, John 21:14-19, Confirmation Sunday
Jesus appears to the disciples after the resurrection and encourages Peter to tend his sheep. We will recognize our confirmation students as they join the church today.
May 8: He Helped Her Up, Acts 9:36-43, Mother's Day
Peter raises a woman from the dead.
May 15: A New Commandment, John 13:31-35, Baccalaureate Sunday
Our youth will lead us in worship today, focusing on the commandment to love one another.
May 22: Do You Want to be Made Well? John 5:1-9
Jesus heals a man by the pools of Siloam.
May 29: Look Around, Acts 1:1-11, Psalm 47
The disciples were left staring at the sky. We are called not to simply have a faith that focuses on heaven, but looks for Jesus around us in the world today. Each Sunday as we affirm our faith using the Apostles Creed, we say, "...he ascended into heaven..." but what does that really mean and how does that impact how we live?
June 5: Breath of the Spirit, Acts 2:1-11, Pentecost Sunday
The Hebrew word for "Spirit" is also the word for "breath." On Pentecost Sunday we remember that the Spirit breathes life into the disciples and gives birth to the church.
June 12: Hope Does Not Disappoint, Romans 5:1-5
Paul calls us to rejoice in our sufferings, for even in our sufferings we know that God's grace will have the final word.
June 19: Before and After, Galatians 3:23-29
Faith changes things. Before faith the people of Galatia were divided, unequal and at odds with each other. Paul believes that after faith, they are all one in Christ.
June 26: VBS Sunday
July 3: Finding a Cure, 2 Kings 5:1-14
Elijah asks Naaman to bath in the river to be healed of leprosy, but Naaman hesitates. When have you hesitated when God has given you an opportunity to change for the better? Today we will give thanks for those who serve our country.
July 10: A Plumb Line, Amos 7:7-17
Amos compares the law to a plumb line, the standard by which we should compare ourselves. As disciples, Jesus Christ is our standard for what it means to be truly faithful.
July 17: The Christ Hymn, Colossians 1:15-28
Paul's letters contain poetic masterpieces that describe the identity of Christ. In this version of the Christ Hymn, Paul describes how the fullness of God dwelled in Christ.
July 24: For the Sake of Ten, Genesis 18:20-32
God declared that he would save the wicked city for the sake of ten. In this famous passage about wickedness, we have a lot to learn about community.
July 31: Rich Toward God, Luke 1:13-21
In the famous parable Jesus reminds us that storing up treasure on earth is useless. We are called to be rich toward God.
August 7: Youth Sunday