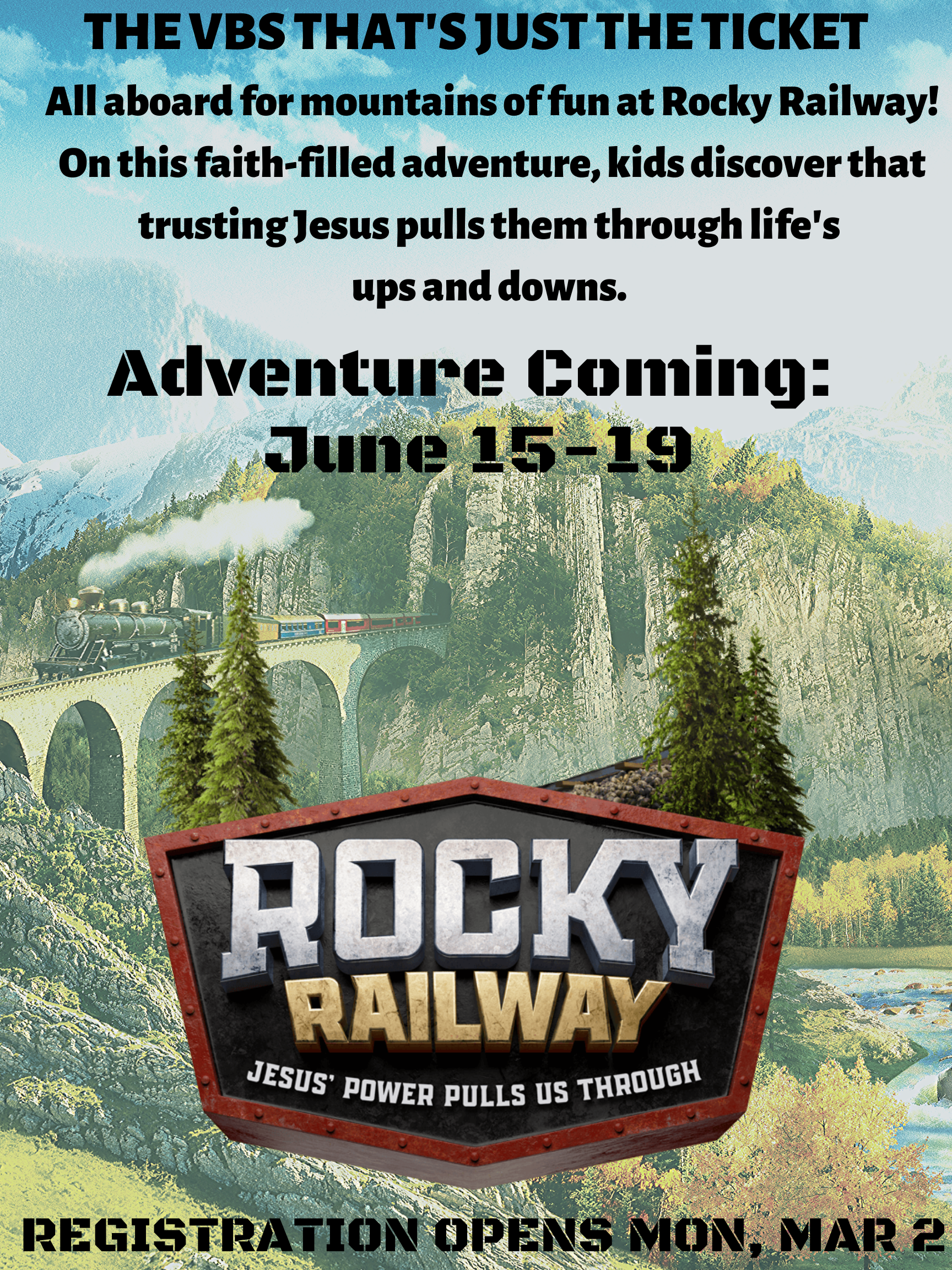 Kids' lives are unpredictable, filled with ups and downs, drops and dips, and twists and turns! Life can sometimes feel out of control and off track. Kids are still learning to process all the changes that life can throw at them. Rocky Railway VBS is intentionally designed to show kids the power of Jesus -- something they can count on to pull them through when life doesn't feel so fun or adventurous. At Rocky Railway, kids will deepen their friendship with Jesus, who empowers them to boldly face life's challenges!
VBS is open to ages 3 (must be 3 by January 1, 2020 & potty trained) through incoming 5th graders.
Registration opens March 2, and is $10 per child. If you are a VBS volunteer and have children under 3 years, there will be nursery care available free of charge.
Extended Day is available, 8 a.m. to 5 p.m., for children who have completed kindergarten through 5th graders. Cost is $100. Email to reserve your extended day spot.
Want to volunteer or have questions? Contact Alison Denny, . You can also go to https://vbspro.events/p/events/faithpcusa to sign up!
How to Register
There are two options for registering:
Register and pay online.
https://vbspro.events/p/events/faithpcusa

Register with paper form and pay with check. There are forms available on the children's bulletin board by the sanctuary (beginning March 2). Forms and money must be turned in to complete registration.
Please submit payment at the time of registration. You may submit payment online or you may submit a check made out to Faith Presbyterian Church with VBS on the memo line. Please know that no child will be turned away due to inability to pay. If you need help, please contact Mary Steen, .
Volunteer At VBS
We need lots of volunteers to make VBS a success! Do you love God and kids? Do you like to teach? Perform skits and dance? Build sets? Greet people? Play games? Decorate? Distribute snacks? Organize other volunteers? We need you! Use your gifts to do what God has called you to do! Come help us touch lives, change hearts and draw kids closer to God. Want to sign up? You can go to the VBS site to see a list of volunteer opportunities including job descriptions and register as a volunteer: https://vbspro.events/p/events/faithpcusa.
Expectations for Volunteers:
Adults Only: Complete mandatory Children and Youth Protection Policy, background check and training.

On VBS days, arrive at 8:30 a.m. and expect to leave around 12:15-12:30 pm.

Volunteers have guaranteed VBS spots for their children.

Be flexible, open, have a positive attitude, listen and fully participate!

Be enthusiastic and energetic, and passionate about your faith in God!
To register your kids for VBS or to volunteer, click the following registration button.